Introducing Partnership MirrorWave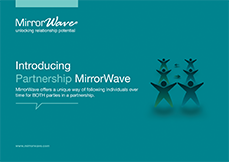 Despite best intentions, many parties fail to form productive and mutually beneficial partnerships because there's very little they're doing differently from the typical one-way supplier- receiver relationship.
MirrorWave offers a unique way of following individuals from BOTH parties in a partnership over time.
---
Download the white paper now.