Over 10 years, we've helped businesses halve the number of dissatisfied people and more than double the number of highly satisfied people. We're sure we could do this for you too!
People hate surveys, but love being listened to!
That's why we founded MirrorWave… to help companies like yours, who are serious about their relationships and want to profit from doing an outstanding job of listening and responding.
We enable you to think and work like a doctor does with a patient... Each time you visit your doctor will ask you the same questions and take the same measurements to see how your health is changing over time and to diagnose why.
They'll then prescribe a solution
You'll visit again to see if it worked
They keep a medical history so they can remember previous issues
So… imagine a similar system designed for business - for customers, partners or employees.

MirrorWave customises and coordinates a system to regularly re-contact individuals in a feedback group, asking each of them the same 2 or 3 questions at each pulse and to look out for worrying individual and big picture changes (or improvements) since the last pulse was taken.
Then, using embedded processes, we make it easy to come to a diagnosis, show you are listening and to get to a fast remedy and work out the business outcomes. It's all recorded in a joined-up individual story that the right people in your company can see at any time.
Let us explain in more depth...
Typical pain points
Traditional feedback methods are usually a poor participant experience and it's hard for your people to get to action, let alone figure out what they have achieved.
Participants often feel like there are too many questions and nothing ever changes as a result of their feedback.
Similarly, managers struggle to find meaningful outcomes especially when feedback is anonymous and they can't go back to people individually.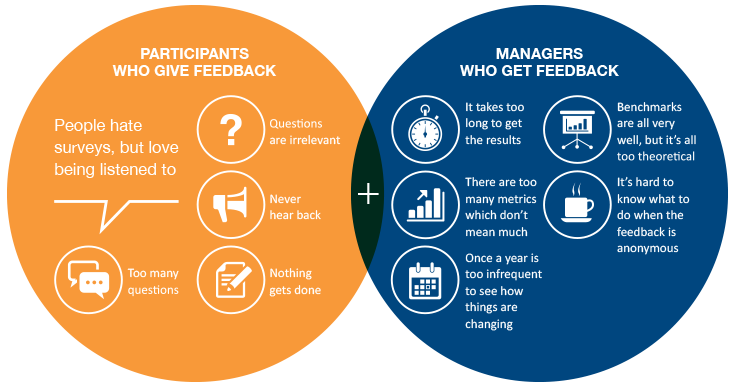 MirrorWave turns these pain points into opportunities for profit
All businesses are about relationships. And we've found there's big potential to be unlocked in relationships with customers, employees and partners by following individuals over time, listening and taking action. It's easy money.
These 5 principles drive our work:


1) 'Following' change is the new way


Relationships change over time
Re-contact people over time to tell relationship stories
Snapshots give you stats, following means you can strengthen relationships
2) Know who is saying what
Trust people to say it their own words
Participant feedback is attributed, not anonymous
People love to give feedback if they know they're being listened to
3) Only 3 questions are needed
We ask only 3 questions
Two or 3 times a year - joined up into a valuable history
4) It must be easy to take action
Getting into a rhythm of soliciting feedback, listening and responding makes action taking part of the water supply
5) It is easy money
Getting into an easy rhythm of soliciting feedback, listening and responding makes action taking part of your normal way of doing things
Doing an outstanding job of listening and responding is easy money. The business outcomes must be clear