MirrorWave is a guidance system which enables businesses to ask less, listen harder and do more. It's a unique relationship strengthening approach, crossing several disciplines - market research, customer relationship management (CRM) and customer experience (CX). In fact, MirrorWave is the first company in the world to specialise in applying the longitudinal re-contact approach to feedback management in business.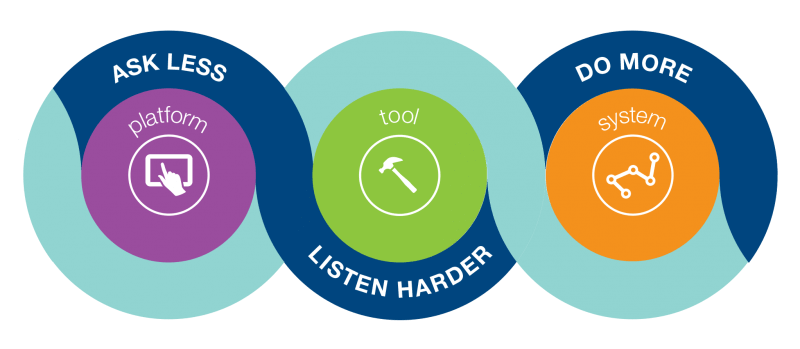 The MirrorWave Platform

Real time text analytics
Longitudinal Azure database
Multi-lingual
Different pulsing modes
Questionnaire engine for email and mobile

The MirrorWave Tool

Control Panel 'dashboard' – a real-time change based results visualiser
Rapid 1:1 response mechanism
Deep dive from charts to individual relationship stories
Marketing lens and relationship lens
Prioritiser for action
Data access permissioning
Drop and run report generator
Scratchpads to save favourites
Resource and collateral bank

The MirrorWave System

A simple, positive participant experience:

Just 3 core questions
Invitation into a feedback 'family'
Enables fast and decisive response
Keep participants in the loop

Makes it easy to get into a rhythm of listening and responding:

A human Program Manager for project management support
Guidance from a Value Maximiser for strategic insight and advice on managing changes in the feedback
Training processes
Technical support
Built-in 3-step ROI calculator
Where do we fit?

Drawing on recognised elements of research, CX, CRM and social:
MirrorWave is a platform and guidance system
Getting feedback is at the heart of what we do
Provide a good participant experience
Enable tight, fast responses like CRM
Create a sense of belonging to an important process
Most feedback is too soft - must be hard-nosed about the money
Two programs in one
By following individuals over time you can serve two very different stakeholder groups and in doing so unlock relationship potential at two levels:
Senior management and marketers are usually interested in the bigger picture strategic insights and the outcomes.
Aggregated data is useful, as is slicing and dicing, but it's vital to be able to see individual stories to be able to understand the context- otherwise all you have are bald statistics. And fresh insights don't usually come from the same old methods.
Our longitudinal method sparks new thinking around what's changing and why and what's working. Leaders also want to bring feedback to the centre. Stories from individuals are more powerful than stats for challenging the organisation and best supports strategy where better centricity and personalisation is crucial.
Relationship managers are most interested in what individuals say so they can strengthen that relationship and unlock the potential.
By re-contacting them regularly with MirrorWave, Relationship Managers get a living barometer of what is going on in their individual relationships, what they should focus on and whether their interventions have had an effect.
That means problems are better nipped in the bud before they escalate, but also positives can be celebrated and turned into opportunities. Managers with an overview of customer or client relationships also want to be able to see what's going on, so they can see how to support Relationship Managers and with good granularity see where opportunities lie.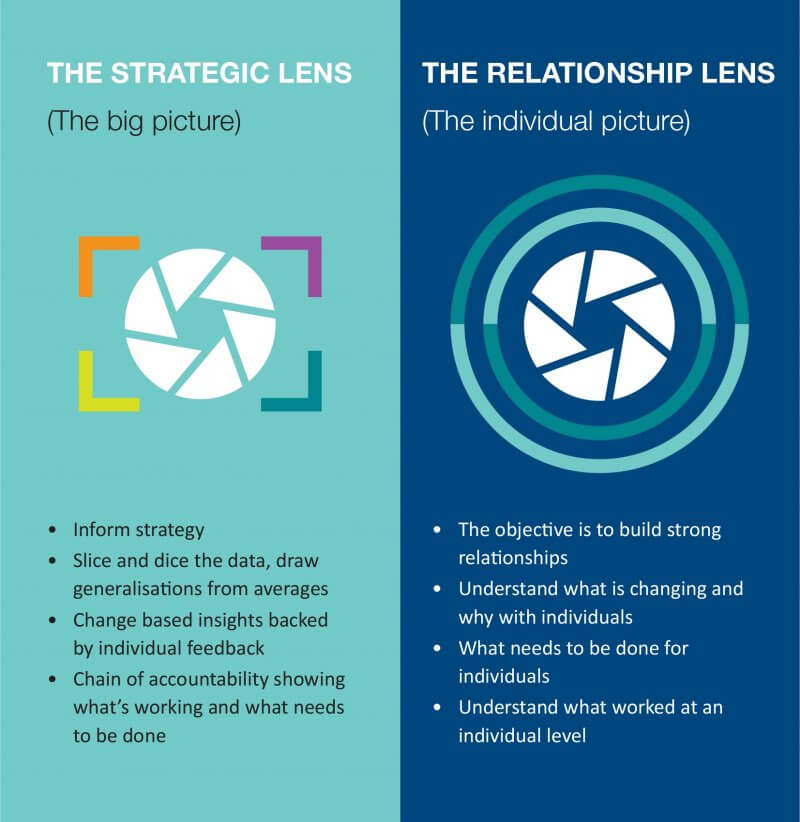 Integration and alignment
MirrorWave's longitudinal method follows individuals over time, generating voice streams which can be connected up to your other data streams in uniquely powerful ways.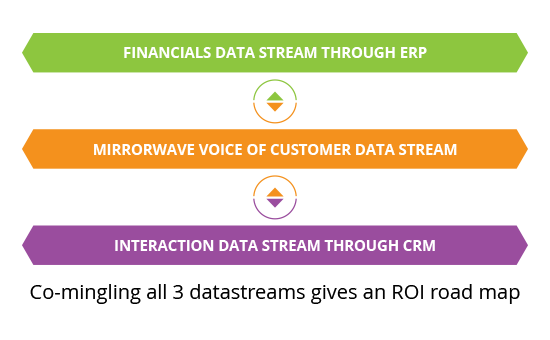 Our integrations allow you to mesh feedback into your business in multiple ways
Present the voice of customer or employee in front-of-mind places in your system, where you want your people to live (like CRM)
Seamlessly sign into MirrorWave from other frequently used platforms for the deep coverage of feedback included in the MirrorWave control panel. MirrorWave's user experience is integral, not additional
Arm your people with heads up reports about individuals as they are about to interact with them
Co-mingle voice and other data streams in ways that flush out fresh insights- for example, sentiment with behaviours and financials
Bring the voice of key stakeholders to the forefront so that your organisation is more customer or people orientated. Our Customer Voice First Hub, for example, encourages greater customer centricity by putting their voice first with other CRM and ERP data enriching it
Build accountability chains where you can clearly see the impact of an intervention on an individual's sentiment and also their behaviour. You'll then understand what is working and what isn't
Efficiently run list and permissions processes out of databases you are committed to keep updated. Getting feedback provides such a reason.
MirrorWave integrates with Salesforce


Build whole-of-business alignment to your promises, strategy or vision

Feedback should be powerful, holistic and strategic.
Get your key stakeholders coalescing around strategy-level issues that concern them and you. Simultaneously follow how key individual stakeholders like customers, employees, referrers or partners think you are performing against:
Your brand promises
Your vision statement
Your cultural values