To get you into an easy rhythm of listening and responding, a typical MirrorWave program follows eight steps: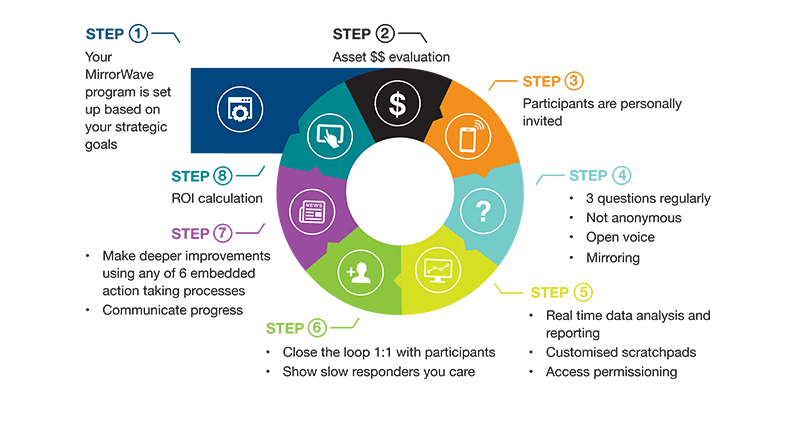 1) Once-off set up: we facilitate a once-off set up, which customises your program and configures your MirrorWave platform, processes and response rules. This includes a briefing session to maximise team buy-in.
Real time text analytics according to a code frame customised to you, including
2) The 'wave' cycle begins: asset dollar evaluation where the value of the relationships is quantified according to our 4 ways to profit model.
3) Participants are personally invited to give feedback. The wave cycle regularly invites and re-contacts participants, which builds and embeds a rhythm of listening and responding
4) We ask just 3 questions, 2 or 3 times a year: we've proven that only 3 questions are needed to show what is changing over time with participants and why. Having a standardised short question format minimises participant fatigue, and by allowing participants to say what they think challenges managers to interpret what this means for what they have to do.
We ask these questions 2 or 3 times a year, which we call 'waves'. We connect the data up wave to wave for each participant to create individual relationship stories. This means we can look at changes in one question from one wave to another. This is our unique key to understanding how and why scores are changing.
5) Real time data analysis: all results are reported in real time as soon as feedback is received. This is done through the MirrorWave Control Panel – a hosted, interactive system with a range of charts and analyses which pay particular attention to what is changing and why.
Full featured filter; compare; export functionality
Unique visualisations derived from our longitudinal method
A 'scratchpad' function where users can go direct to their favourites, without entering the main Control Panel
Sophisticated data access permissioning


6) Close the Loop: getting back to participants fast and decisively 1:1 is the heart of most MirrorWave programs. Close the Loop is a rapid 1:1 follow up process where action items are sent by email to the people in your team, that you have nominated to follow up on participant feedback.
Your people receiving the action items are fully guided on policies for what action to take
Once the task is completed, the assignee briefly details what has been done. This completion data is presented against the feedback the customer has given, showing the full accountability loop of what a customer said previously, what was done and what the customer said next time

7) Make improvements and communicate progress:
Identify 'Persons of Interest'. Escalate ticking time bombs and other individual customers with worrying trends to their feedback stories

Take results back to key stakeholders. Uses 'drop and run' instant reporting

Between wave blitzing. Work processes including the collaborative 'comments of interest' to consider the deeper issues to blitz and communicate internally and externally

Show the business impact. Successes from each wave must be flushed out, documented and used to encourage better practice.

8) ROI calcutions:

Show the business impact. Successes from each wave are flushed out, documented and used to encourage better practice

Comparisons are made to step 2 dollar evaluations to demonstrate ROI